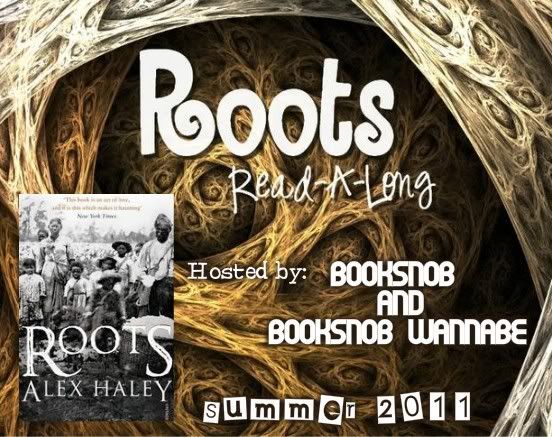 Last summer I wrote a post about a reading challenge I was participating in and how I was having trouble deciding which books to read.

One of the books I mention was ROOTS.

A fellow book blogger, "Book Snob" suggested that together we host a summer read-along using the book.
For the longest time I have wanted to read this book.

Being an owner of the miniseries (and as soon as "Roots: The Next Generation" is on DVD, I will be the owner of this miniseries as well) and having watched them several times, I felt that it was only right for me to read the book.

However there was never a perfect time and honestly, I was afraid to tackle it.

Let's be honest here, this is not a light summer reading.
With the book being a little over 900 pages, I am going to need something (or someone) to hold me accountable and stay the course with finishing the book.
Without further ado….. HERE IS "SUMMER 2011 READ-ALONG: ROOTS BY ALEX HALEY"
Starting Monday, June 13th and EVERY Monday for the nine weeks, we will be discussing the book, "Roots".
By reading 100 pages a week, Book Snob and I will post our thoughts about the previous week's reading.
So come by every Monday (as well as Book Snob's blog) for discussions on our weekly reading.

If you have a blog and want to participate, please comment below.

Every week put the link of your post in the comment section of that particular week.

IF YOU DO NOT HAVE A BLOG, please post your thoughts of the reading directly in the comment section of that particular week.
Therefore if you have ever been interested in reading this book but thought the subject and length of the book was too heavy for you, this is a great space to come and post your thoughts and opinions about it.
I mean really…. What else are you doing this summer???

LOL!